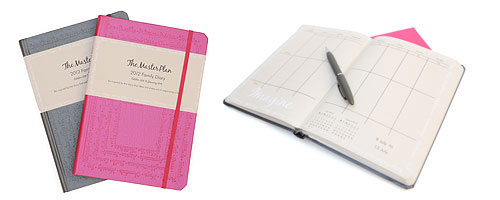 The Master Plan - the designer diary for parents

Every parent knows that it's possible to do 5 things on a Saturday morning, at last here is a diary that gives you the room to organize the schedules of your family. With plenty space for Mum or Dad, plus space for individual family members, you can see at a glance what needs to be done.
Beautiful leather feel cover with convenient elastic strap closure
Week to an opening
Starts October 2011
Finishes January 2013
A separate notebook with blank, perforated tear out pages.
Space to plan/record meal plans.
Yearly Planners for 2012 and 2013
School Holidays & Public Holidays (Australia & NZ)
Size: 15.5cm x 22cm x 2cm
Entries close Midnight Sunday 13th November, 2011 and the winners will be drawn on Monday November 14, 2011.
Tell us one of the features of the My School Days Good by Milestone Press - good luck!